Urban Tacoma Senior Portraits at Sunset
Gracie wanted urban Tacoma senior portraits, so we explored the city together for her session. Late August in the city is so much fun. The sun was shining, and the light was perfect! We walked around and found some fun spots for this boss babe's senior portraits.
City Style
Gracie brought along her classic jean jacket for her senior portraits. This is the best layering piece for summer and fall senior portraits! It goes so well with casual outfits and summery dresses. Gracie wore fun striped pants and a black tank top for her city portraits before changing into jeans and a flowy top.
All of my seniors pick such amazing outfits that show off their style and personality. They also have access to the AHP Style Closet for their session! I keep the studio stocked with wardrobe options that are on-trend, and I am constantly refreshing it with seasonal styles and accessories. This means you don't have to go out and buy all new outfits for your session.
Sunset at Owen Beach
After walking around the city, we headed to Owen Beach for some gorgeous sunset portraits. Gracie kicked off her sandals and dipped her toes in the water. I love the driftwood at the beach – it's perfect for posing! Gracie treated it like a balance beam. We had so much fun exploring the beach together for her summer portraits.  And one of her friends was able to stop by so she hopped in a few photos- how fun!
Daffodil Princess
Gracie was a Daffodil Princess in her senior year. Every year, Pierce County celebrates the Daffodil Festival, which is such a fun tradition with a rich history. Daffodil Princesses are ambassadors for the community. They show exemplary leadership and spend time devoted to community service. I have had a few princesses on the AHP model team throughout the years, and they are so wonderful. Gracie was super shy at first but totally opened up after a year on the model team. I am so glad I got the chance to get to know her during her senior year.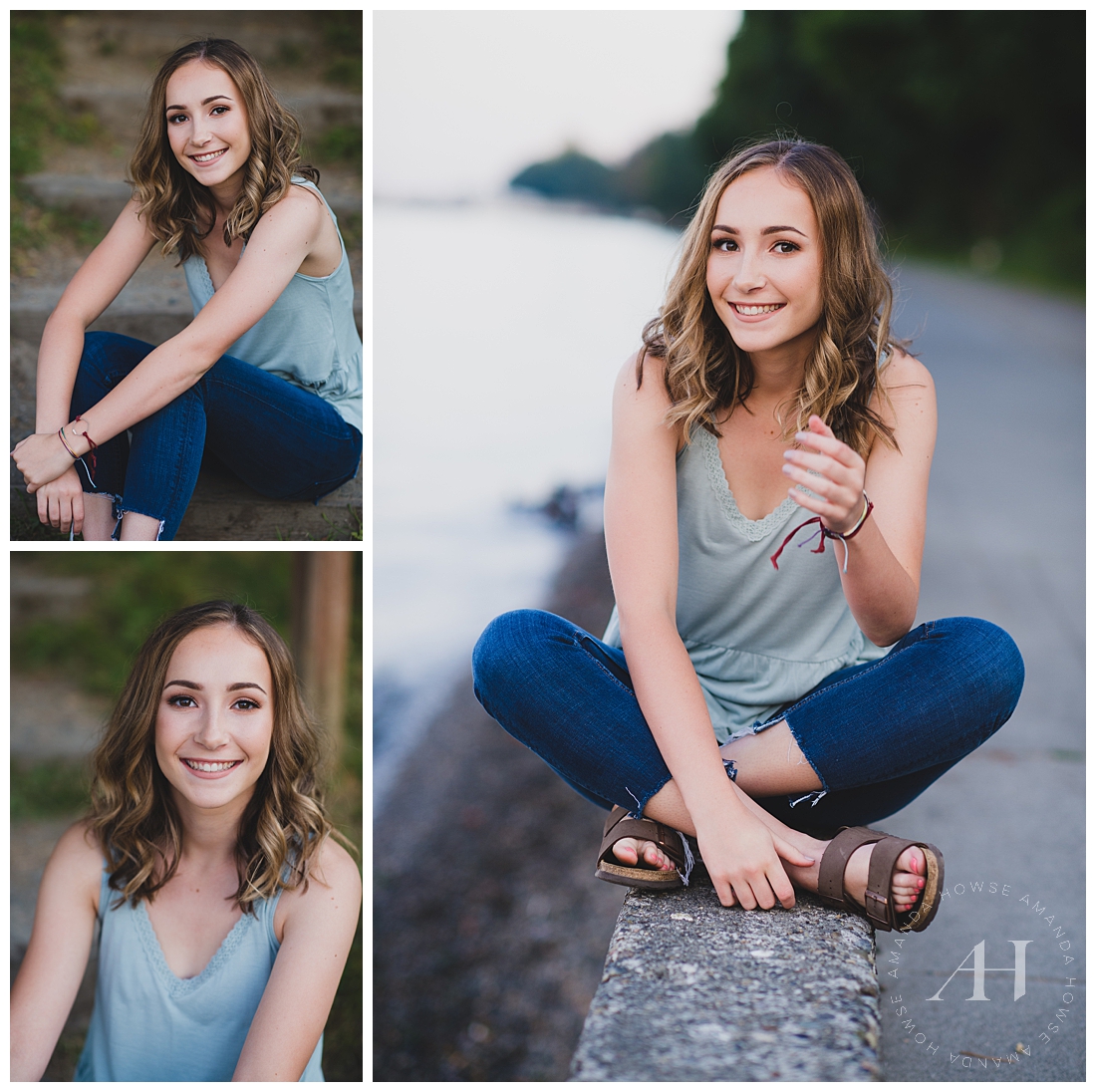 Vendor Credits
Hair and Makeup: Jessica, Blondet Beauty
Let's Connect for your Tacoma Senior Portraits!
My books are now open for 2021 seniors! Let's schedule your Tacoma senior portrait session. You can reach out on my website, email me at [email protected], or call/text me at 530-412-0730.